Synopsis
RURAL IRELAND. 1981. A quiet, neglected girl is sent away from her dysfunctional family to live with foster parents for the summer. She blossoms in their care, but in this house where there are meant to be no secrets, she discovers one.
Film Credits
Starring:
Carrie Crowley
Michael Patric
Kate Nic Chonaonaigh
Catherine Clinch
Andrew Bennett
More Information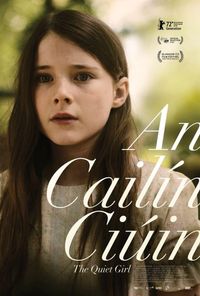 Rating:
12A
Suitable for 12 years and over
Films classified 12A and video works classified 12 contain material that is not generally suitable for children aged under 12. No one younger than 12 may see a 12A film in a cinema unless accompanied by an adult. Adults planning to take a child under 12 to view a 12A film should consider whether the film is suitable for that child. To help them decide, we recommend that they check the Ratings info for that film in advance. No one younger than 12 may rent or buy a 12 rated video work.