Synopsis
RURAL IRELAND. 1981. A quiet, neglected girl is sent away from her dysfunctional family to live with foster parents for the summer. She blossoms in their care, but in this house where there are meant to be no secrets, she discovers one.
Film Credits
Starring:
Carrie Crowley
Michael Patric
Kate Nic Chonaonaigh
Catherine Clinch
Andrew Bennett
More Information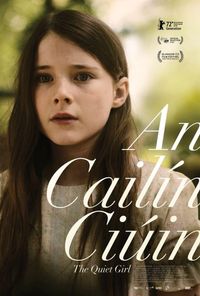 Rating:
12A
12A Certificate
Films classified 12A have been deemed appropriate for viewers of twelve and over. However, they can also be seen by younger children - provided they are accompanied by an adult who has deemed the film appropriate viewing for that child. In such cases, IFCO strongly recommends that parents/guardians make informed decisions by accessing the consumer advice available on this website.
Released:
10 February 2022