Synopsis
Accused of a crime he didn't commit, Coleman Sharkey has to abandon his family and flee to a remote island. When the famine engulfs his community and takes his wife and child, he is left with nothing but a solitary life. Coleman evades the law and fights starvation until he meets a girl named Kitty who helps him find a reason to live.
Cuirtear coir i leith Coleman Sharkey, coir nach ndearna sé, agus caithfidh sé a theaghlach a thréigean agus cur faoi ar oileáinín iargúlta. Déanann an gorta slad ar an bpobal, sciobann uaidh a bhean agus a pháiste agus níl aige sa saol ach an t-uaigneas agus é ar a theitheadh ó fhórsaí an dlí, ag iarraidh gan bás a fháil den ocras. Buaileann sé le cailín darb ainm Cití a thugann cúis dó a bheith beo.
Film Credits
Director:
Tom Sullivan
Tomás Ó Súilleabháin
Writer:
Tom Sullivan
Tomás Ó Súilleabháin
Starring:
Dónall Ó Héalai
Saise Ní Chuinn
Dara Devaney
Eoin O'Dubhghaill
Michael McElhatton
Dudura O'Gionnáin
More Information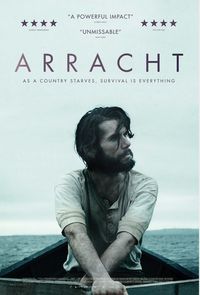 Rating:
12A
12A Certificate
Films classified 12A have been deemed appropriate for viewers of twelve and over. However, they can also be seen by younger children - provided they are accompanied by an adult who has deemed the film appropriate viewing for that child. In such cases, IFCO strongly recommends that parents/guardians make informed decisions by accessing the consumer advice available on this website.